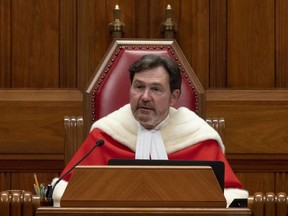 Content of the article
OTTAWA — Canada's Chief Justice says the justice system must continue to modernize and innovate, warning it cannot go back to pre-pandemic ways.
Content of the article
Richard Wagner of the Supreme Court of Canada told a news conference on Thursday that all players in the justice system are reassessing what they do, how they do it and how effectively they meet the needs of people who 'they serve.
Wagner insists that access to justice is not only a fundamental right or a service, but above all a basic human need and an essential ingredient of democracy.
He acknowledged that meeting expectations for speedy justice is an important task, especially with so many courts facing backlogs and delays.
Wagner said that's why a committee on legal operations in response to COVID-19 continues to meet even as the pandemic subsides.
The committee recently produced a document for judges and court administrators with practical suggestions for processing cases more quickly and efficiently.
Content of the article
The Supreme Court began holding videoconference hearings, as well as hybrid sessions, in 2020 to help prevent the spread of COVID-19.
Other courts across the country have also moved to adapt quickly, allowing the use of audio and video technology for hearings as well as more digital materials.
Wagner said last year that the Supreme Court would continue to hold virtual hearings beyond the COVID-19 pandemic if attendees agreed to them.
"Now we are actively encouraging remote hearings," he said Thursday.
The technology is leveling the playing field for all, giving parties the ability to make their case wherever they want and delivering substantial cost savings, especially to those furthest from Ottawa, he said.
This improves access to justice, especially for stakeholders such as public interest groups who provide the court with additional context and perspective on difficult legal issues, Wagner added.
Content of the article
"Really, it doesn't matter if the lawyer is standing in front of them or appearing on screen. Strong, well-reasoned, and persuasive arguments can be made from anywhere.
The courts have a vital role to play in implementing the values ​​of the rule of law and democratic institutions, Mr Wagner said.
However, even in Canada, nothing is certain and "we must constantly remain vigilant" against attacks on these values, he added.
Asked about the "freedom convoy" of anti-government protests that paralyzed downtown Ottawa for weeks last winter, Wagner said it led to deplorable conditions as businesses closed and people were losing their jobs.
He cited misinformation circulating largely on social media to explain the protests, ostensibly against COVID-19 public health measures enacted by governments, but which also exposed mistrust of politicians and other managers.
Content of the article
Wagner said the events, which led to the federal invocation of the Emergencies Act to remove large trucks blocking streets, raised serious safety concerns.
The Supreme Court building is just outside the official parliamentary precincts and therefore does not have the same type of protective measures as Parliament Hill.
Wagner said he had asked for the court to be included in "the protection zone" following the protests.
He emphasized education and transparency about the role of the court as key elements in ensuring people support democracy, judicial independence and the rule of law.
"And if they don't have confidence, that's when the problems arise."